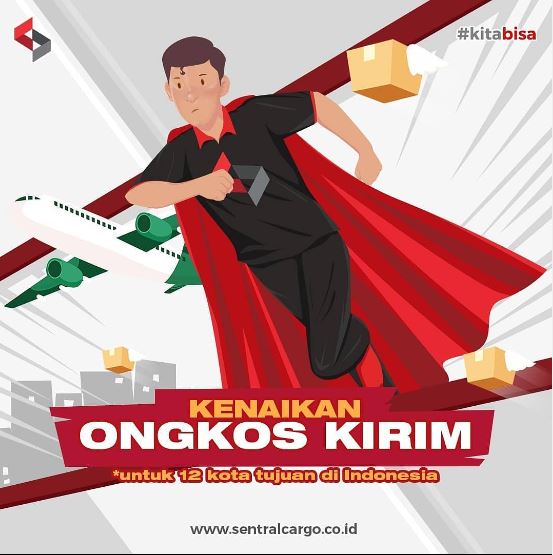 Jakarta, 19 June 2020
Dear:
All Sentral Cargo Customers

Throughout Indonesia

Subject: Increase in Air Shipping Prices Per Monday, 22 June 2020
Yours Faithfully,
First of all, we would like to thank you for trusting your company to always send packages, goods, or documents through Sentral Cargo throughout the Indonesian archipelago.
We hereby inform you that with the increase in the price of Air Mailing Letters (SMU) from airlines, which is effective on June 8, 2020 (Attached News). So it is with a heavy heart that we convey that Monday, June 22, 2020 Sentral Cargo will also adjust prices again for air cargo purposes while for land cargo purposes there is no increase in shipping costs. The following are the goals of 12 cities that will experience an increase in the price of sending electronic goods and accessories :
Batam
Padang
Manado
Denpasar
Banjarmasin
Pekanbaru
Medan
Palembang
Makassar
Balikpapan
Samarinda
Pontianak
Oleh karena itu Kami atas nama management Sentral Cargo memohon pengertian dan maaf kepada seluruh pelanggan Sentral Cargo Indonesia dengan adanya penyesuaian kenaikan harga. Semoga hal ini dapat dimaklumi dan tidak mempengaruhi hubungan kemitraan yang telah terjalin baik selama ini.
Demikian informasi yang Kami sampaikan. Atas pengertiannya, Kami haturkan terima kasih.
Hormat Kami,
Sentral Cargo Management