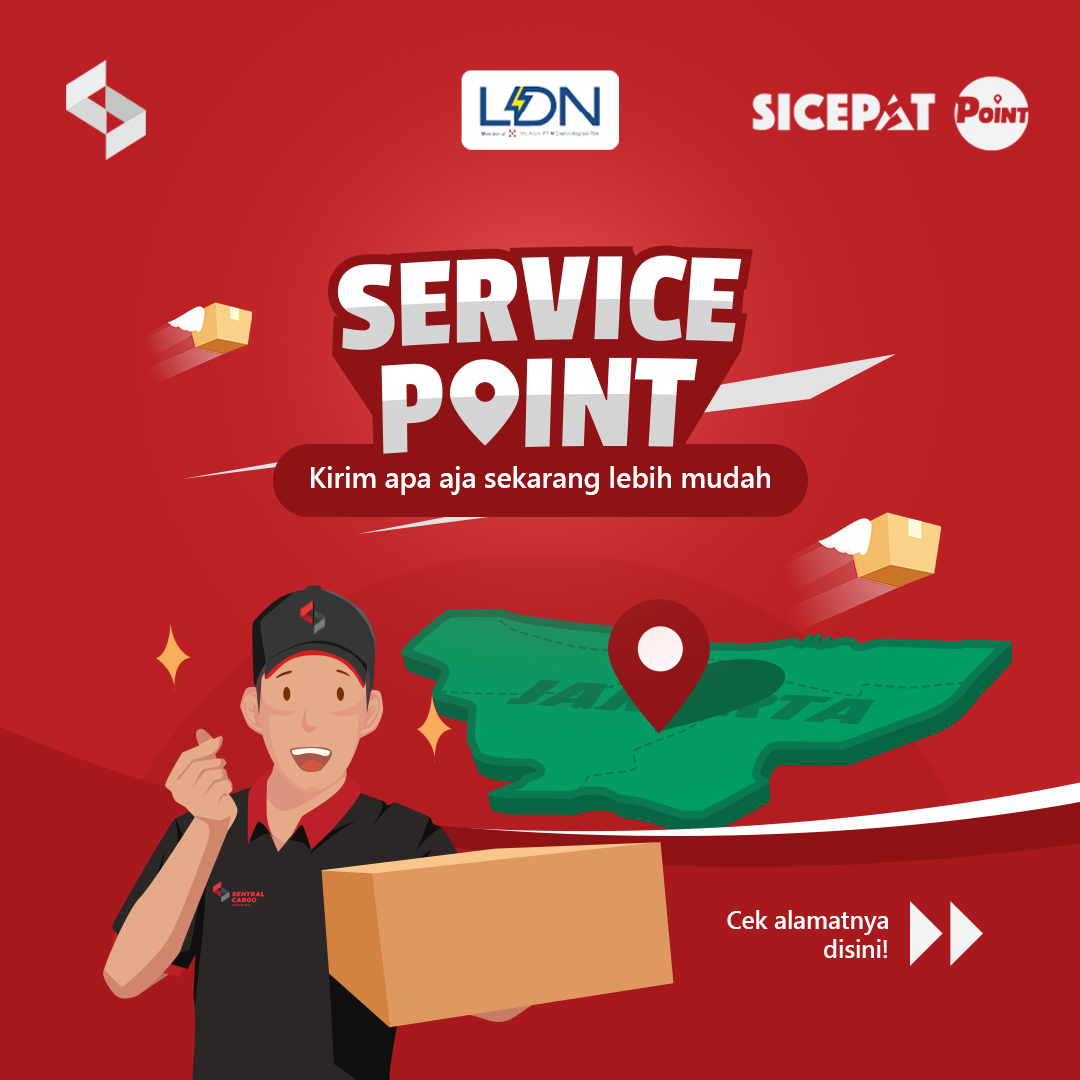 Sentral Cargo in 2022 will expand the drop point area by cooperating with PT Logitek Digital Nusantara (LDN), and SiCepat Ekspress Indonesia. In the LDN collaboration, as an operate role for the Cargo Sentral drop point service by providing convenience and comfort to customers in using the Central Cargo Point service.
Central Cargo Point with LDN provides a system for ordering, tracking and payment for goods delivery solutions. Central Cargo Point is one of the services provided to assist sellers in dropping packages or goods.
Currently, there are 5 Central Cargo Points in Jakarta, Indonesia. This service point service will continue to develop in order to make it easier and closer to Central Cargo with sellers and customers in terms of shipping goods. In the next stage, Sentral Cargo will expand the area points that have not been reached so that it can embrace B2B as its network.
Currently 4 service points are located in West Jakarta and 1 location in East Jakarta, namely:
Jln. Jelambar Barat 3, Ruko Blok A/1, RT.013 RW.011, Kel. Jelambar Baru Kec. Grogol Petambuaran, West Jakarta 11460

Daan Mogot Baru,Gilimanuk 3 No.3A Kel. Pegadungan Kec. Kalideres, West Jakarta 1830

Jl Daan Mogot KM.10 No35 RT003 RW003.Kel. Kedaung Kaliangke Kec. Cengkareng, West Jakarta 11710

Jalan Bangun Nusa Raya RT.012 / RW.013 Kel. Cengkareng Timur Kec. Cengkareng, West Jakarta 11730

Jln.Kalisari III RT.001/010 No.48 Kel. Kalisari Kec. Pasar Rebo, East Jakarta 13790
With the Sentral Cargo Point, it is very effective in increasing the volume and more and more customers are willing to drop their goods to the Sentral Cargo because later there will be more location points that are easy to access for both Consumers and Sellers. Furthermore, Sentral Cargo will expand the area points that have not been reached so that the Sentral Cargo Point network will continue to grow and innovate in service.
This collaboration is expected to provide added value and further expand business in the logistics industry, and further expand its reach in improving shipping solutions and consumer behavior who continue to trust and are closer to customer access to their shipments to Sentral Cargo. Currently only enjoying the DKI Jakarta area, this Sentral Cargo Point service will be able to be enjoyed for all parts of Indonesia. Want to send a lot of goods using Sentral Cargo? Definitely more lucky!!!